Rhea County FFA Attends Tennessee FFA Convention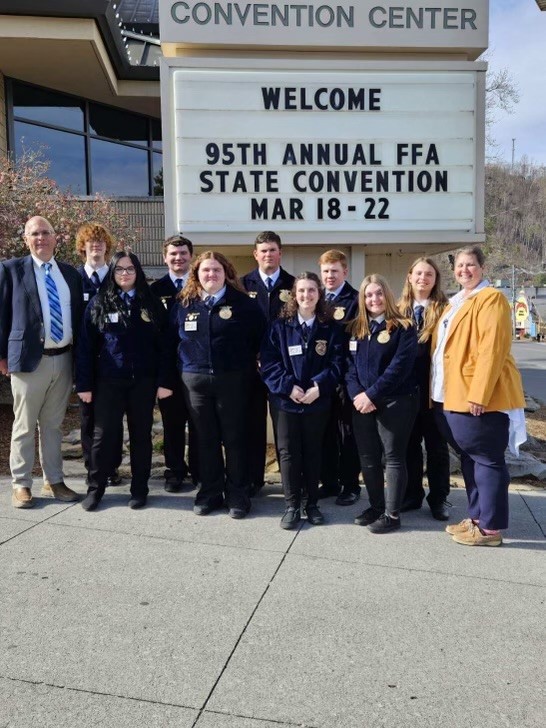 ---
The Rhea County FFA Chapter attended the 95th annual Tennessee FFA State Convention this week. Students competed in Star Farmer, Proficiency Award, and Agriscience Fair. We also had 2 earn their State degree.
Walker Housley was named East Tennessee Star Farmer. He competed for State star but was not selected. Walker did win the state with his Beef Production Placement Proficiency which will be advancing to national competition this summer.
We believe that this is the first time that the Rhea County FFA Chapter has competed in the Agriscience Fair. We took 3 projects to convention. Two of the groups placed at convention.
Lexi Lee and Levi Henderson are regional winners and state runner-up Social Science with their project on drones. Faith Hough and Morgan Roberts are regional winners and state runner-up Environment and Natural Resources with their project on composting. Aaron Abney also participated with his plant systems project. There is lots of excitement and ideas for more agriscience fair projects next year.
Walker Housley and CJ Stanley received their State Degree.
The chapter also came home with two chapter awards: Superior Chapter Award and Passing Literacy Onward (PLOW) Platinum Award (this is the highest honor in the PLOW program.)
We appreciate all of the family members and administrators that came to support our students and the many phone calls and text messages from our supporters cheering us on.
Sources: Mr. Scott Shaver and Mrs. Angela Shaver, Rhea County FFA Sponsors